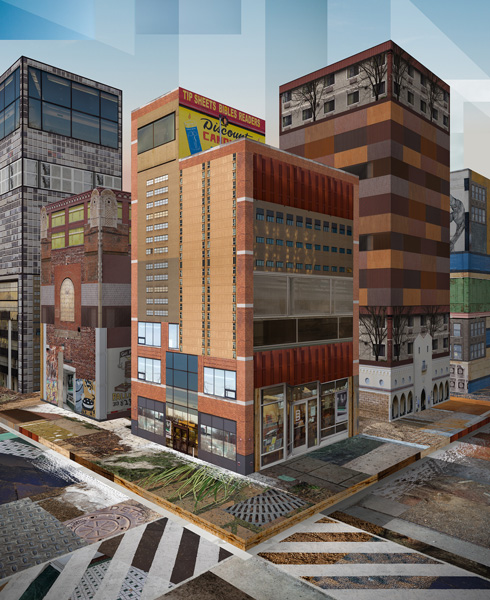 Superblock
Joe Hamilton
Curated by Simone Hine and Kyle Weise
Window | National, 9 May - 2 September, 2016
Superblock by Joe Hamilton was conceived and produced specifically for Window | National and curated by Simone Hine and Kyle Weise.
Window | National was a one-year public art project organised by Window (Re/Production | Re/Presentation) and included three public art exhibitions, each presented across six US sites. Simone Hine and Kyle Weise were invited to curate the second exhibition, resulting in Superblock by Joe Hamilton and its accompanying catalogue essay.
For Superblock, Hamilton sourced photographic imagery of the six window sites on which the work was to be exhibited and used this material to create a dense digital collage, printed as a poster and then installed on these sites. The work speaks to our movement across both virtual and physical architectures, as was mirrored in the production of the work itself.
Superblock mines the literal and metaphorical connections between virtual and physical windows, and continues Hamilton's fascination with the screen as a site that merges transmission, reception and production. Here, Hamilton has crowd-sourced images of and around the six physical sites of the Window | National project, and a selection of these images has then been intricately collaged to create a single complex and layered image. The sites have been combined and collapsed into each other via the surface of the screen to create an image which will then be physically transferred back onto the physical sites and surfaces of the six windows hosting the project. The screen here is site of both orientation and displacement: places can be accessed remotely, and exactly defined, spatially and geographically, via online tools, while this ubiquity of instantaneous access to information simultaneously splinters our connection to the singularity of place, incessantly imbricating us within broader networks of communication where, as Paul Virilio notes, "here and there no longer mean anything […] the difference between 'near' and 'far' simply ceases to exist" ("The Overexposed City" 1984).
The work was exhibited in the following six USA locations:
Henco Reprographics – Asheville, NC
The Olin Library at Rollins College – Winter Park, FL
Wayne State University Art Department – Detroit, MI
Normandale Community College – Bloomington, MN
Texas State University – San Marcos, TX
Passages Bookshop – Portland, OR

We would like to acknowledge the contributions of members of the communities at each of the Window | National satellite locations who generously provided photographic site documentation of each space, which Hamilton incorporated into his project. Specifically, we thank Lenka Becvar (Portland, OR); Millee Tibbs (Detroit, MI); Benny Ventura (San Antonio, TX); and David Luke (Normandale, MN).
Download the exhibition catalogue essay here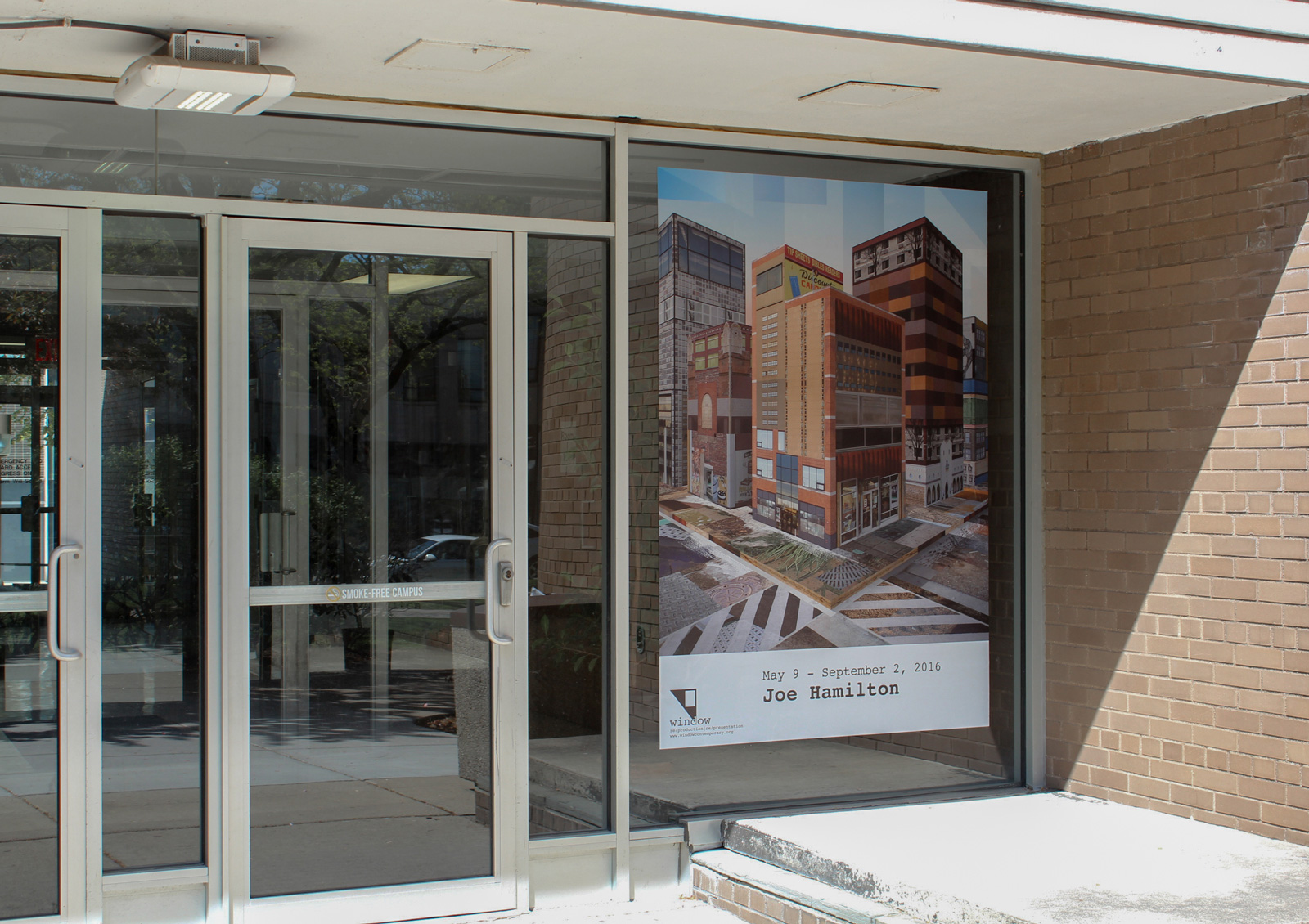 Joe Hamilton, Superblock, 2016. Window | National, Detroit, MI. Photo by Laura Makar.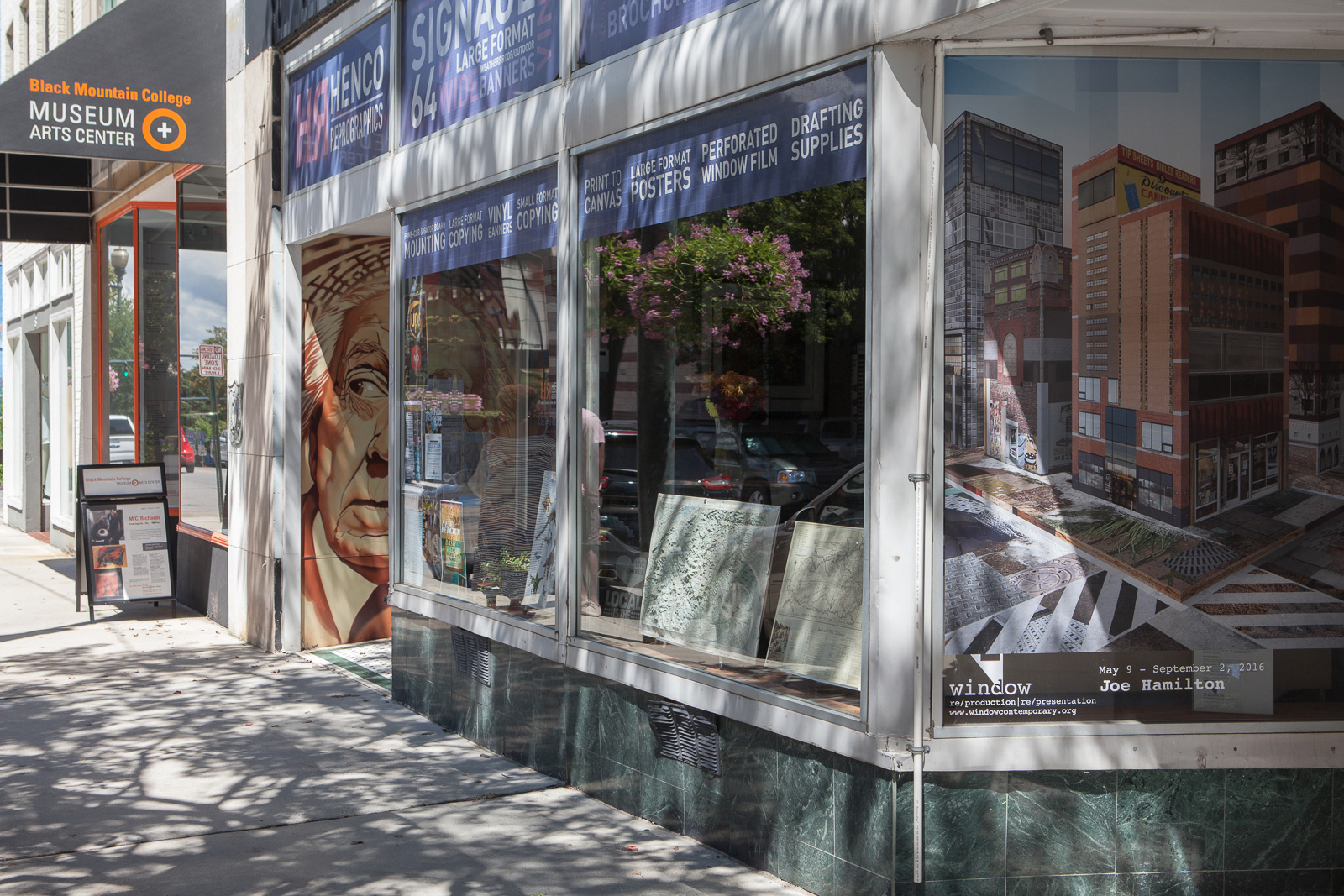 Joe Hamilton, Superblock, 2016. Window | National, Asheville, NC.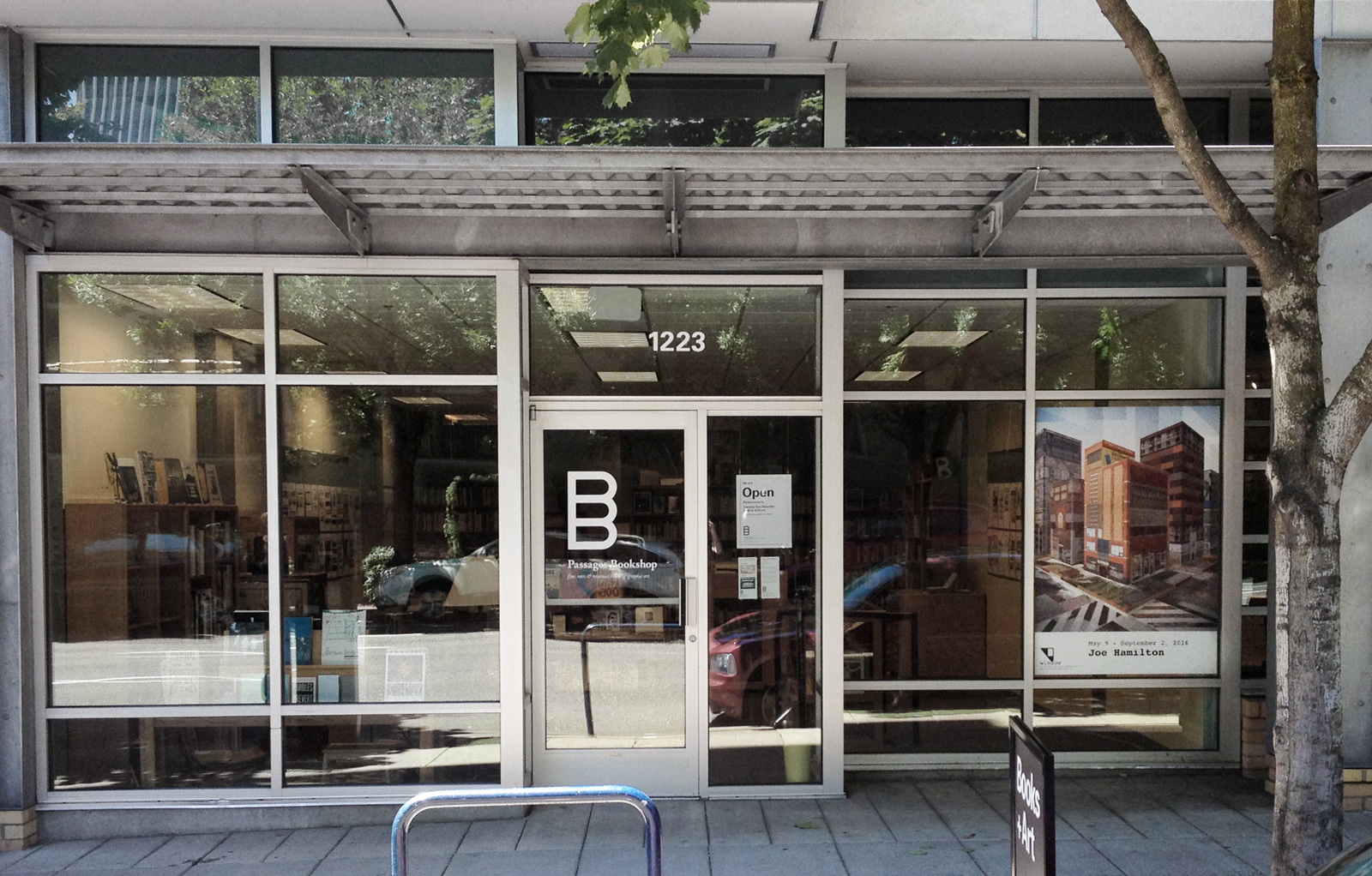 Joe Hamilton, Superblock, 2016. Window | National, Portland, OR. Photo by David Abel.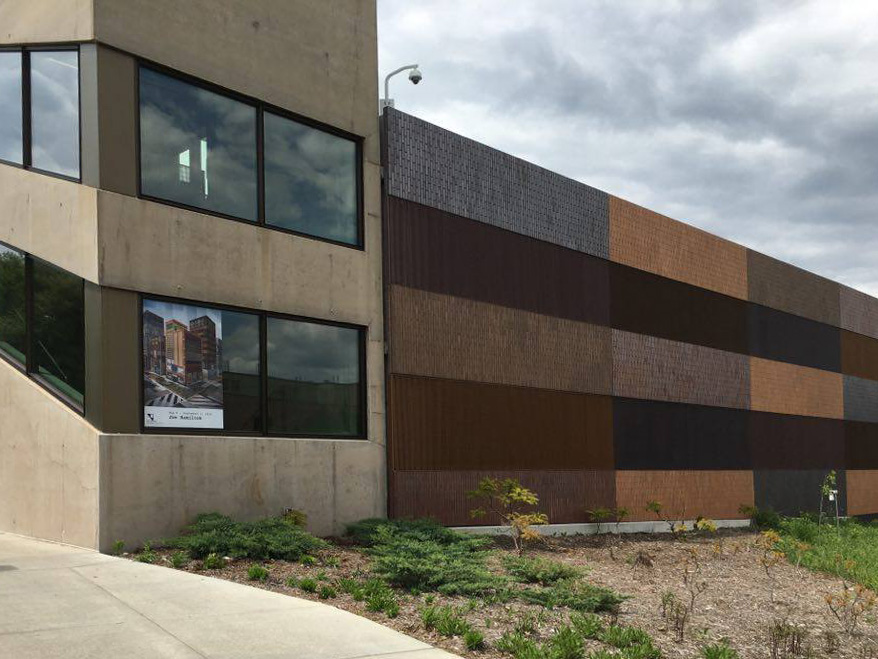 Joe Hamilton, Superblock, 2016. Window | National, Bloomington, MN. Photo by Kristoffer Holmgren.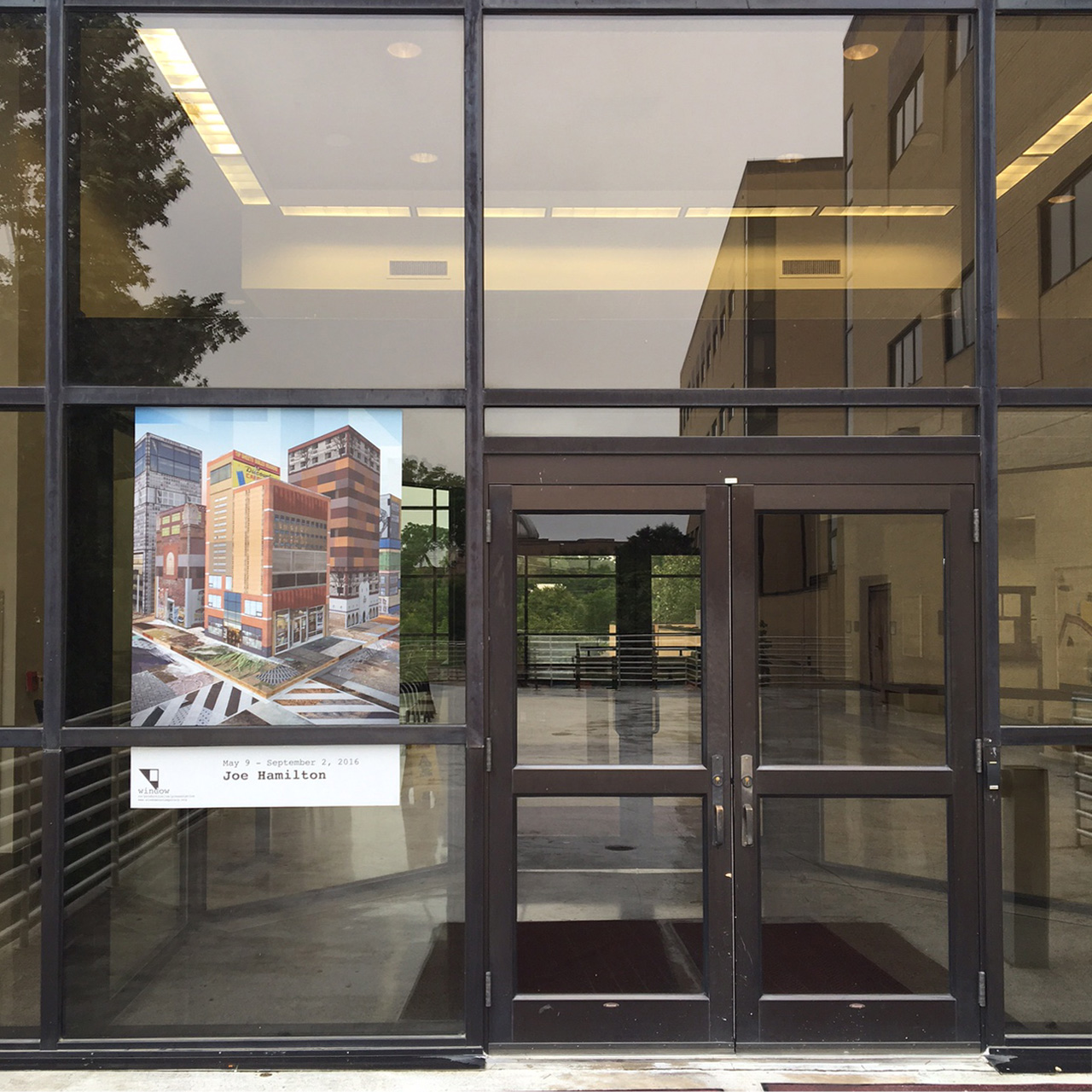 Joe Hamilton, Superblock, 2016. Window | National, San Marcos, TX. Photo by Chad Dawkins.